The annual Accelerate@Babraham start-up competition, run by the Cambridge-based Babraham Research Campus, has announced its 2023 cohort of early-stage life science ventures.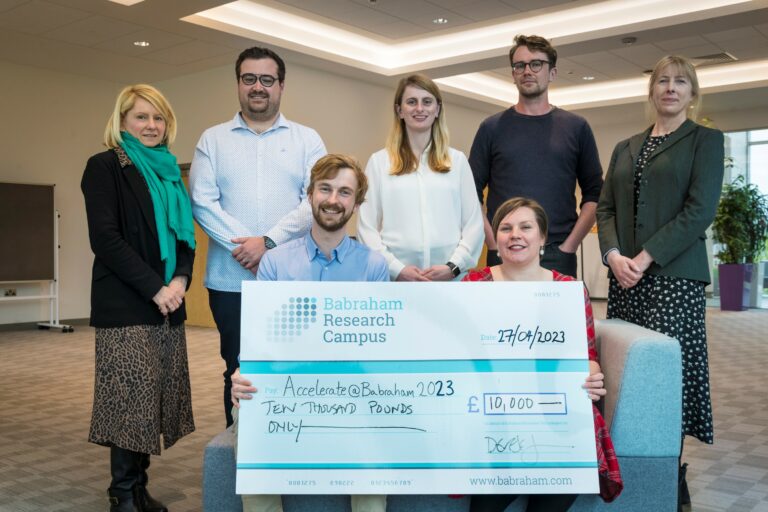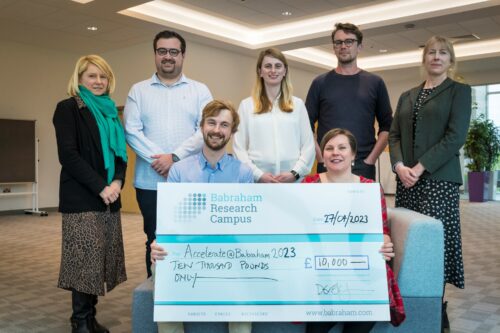 The six companies selected will benefit from a bespoke three-month scientific, business, and technical support programme. The winners also receive ten months of free lab space, access to the Cambridge Cluster network, introductions to potential investors and £10,000 of non-dilutive funding.
Medicines Discovery Catapult (MDC) is a strategic partner of Accelerate@Babraham and will work with the winning companies to identify opportunities for success, define line of sight to the clinic and de-risk their discovery projects to impact patient health.
The 2023 cohort includes:
Aila Biotech – Co-Founders: James Dooley and Adrian Liston
Aila Biotech is developing a unique biologic therapy with promising pre-clinical efficacy in neuroinflammation that has been validated in multiple in vivo tissue models. Its platform is based on a unique, patented, biologic delivery system, enabling immune-modulating biologics to be produced at the site of brain inflammation mitigating cognitive loss. The platform creates a system where the production of biologic therapeutics is under the control of a dose-responsive small molecule switch that can be turned on and off as treatment indicates, diminishing any potential long-term off-target effects.
BugBiome – Founder: Alicia Showering
BugBiome is combating deadly vector-borne diseases such as malaria and dengue, which continue to cause over a billion infections each year. It harnesses the power of the skin microbiome to develop an effective, long-lasting mosquito repellent.
CytoCalx – Co-founders: Rachael Walker and Diane Proudfoot
CytoCalx is seeking to generate a biomarker to estimate risk and severity of chronic kidney disease (CKD) and cardiovascular disease. The assay being developed aims to accurately measure active tissue calcification levels in blood samples.
Gigabiome – Co-Founders: Frederick Clasen, Saeed Shoaie and Rajiv Jalan
Gigabiome's purpose is to develop novel, innovative strategies to address antimicrobial resistance (AMR). Using genomic sequencing and artificial intelligence technologies, Gigabiome profiles resistance from a patient's gut and oral microbiomes. This personalised approach will enable clinicians to prescribe the appropriate antimicrobial at the correct time.
Matrix Bio – Founder: Chris Mosedale
Matrix Bio uses data analysis and deep learning to identify the optimal hydrogel compositions for specific cell-based applications and predict how they will behave in experimental conditions. This in turn streamlines the development and discovery process, helping create hydrogels that are more tailored to the specific needs of each application, saving significant time and expense.
Neurothread – Founder: Tim Chisholm
Neurothread's vision is to diagnose Parkinson's disease (PD) early and accurately. Its solution is an in vitro diagnostic based on a novel method of characterising new protein biomarkers that are characteristic of many neurodegenerative diseases.
Accelerate@Babraham is the Babraham Research Campus' bio-incubator. It was founded to nurture early-stage ventures and provides a network of experts, mentors, investors, and data-driven business analysis. This support helps to equip young enterprises with the skills, confidence and network connections to enable success.
MDC is reshaping drug discovery for patient benefit, transforming great UK science into better treatments through partnership. It works to tackle industry-led challenges and overcome the barriers that limit today's drug discovery with effective interventions.
Dr Sally-Ann Emmas, Lead Scientist – External Drug Discovery Projects at Medicines Discovery Catapult, said:
"MDC reshapes drug discovery in many different ways and supporting Accelerate@Babraham as a strategic partner provides us with another avenue to nurture early-stage discovery. The programme is a fantastic opportunity for early-stage innovators from across the UK to gain invaluable commercial and scientific insights, funding, and access to lab space required to progress their innovations.

"It is inspiring to see such diverse innovations in this year's cohort, all of which have the potential to have a significant impact on patient health. We look forward to working closely with these innovators over the next few months as we provide training and scientific advisory boards to identify strengths, gaps and risks in their projects and help refine roadmaps of critical activities."
Kathryn Chapman, Director, Science and Entrepreneurship at the Babraham Research Campus, commented:
"We were delighted with the calibre and quantity of Accelerate@Babraham applications this year, although it did make for an extremely difficult decision-making process! Our 2023 cohort are a passionate group of new life science innovators and entrepreneurs, all of whom have the motivation to push themselves and their science as they engage throughout the programme.

"We've enjoyed getting to know them all over the last couple of weeks as we kicked off the 2023 programme with Bootcamp here on Campus – a fantastic opportunity for the cohort to come together, share experiences to date and begin meeting and learning from our network, partners and other experts, all of whom give their time freely to support these new ventures. The energy levels are high and it's a real pleasure to be part of the journey of this latest cohort."